Increase your Immunity, Buy Vitamin C Tablets Online at Low Price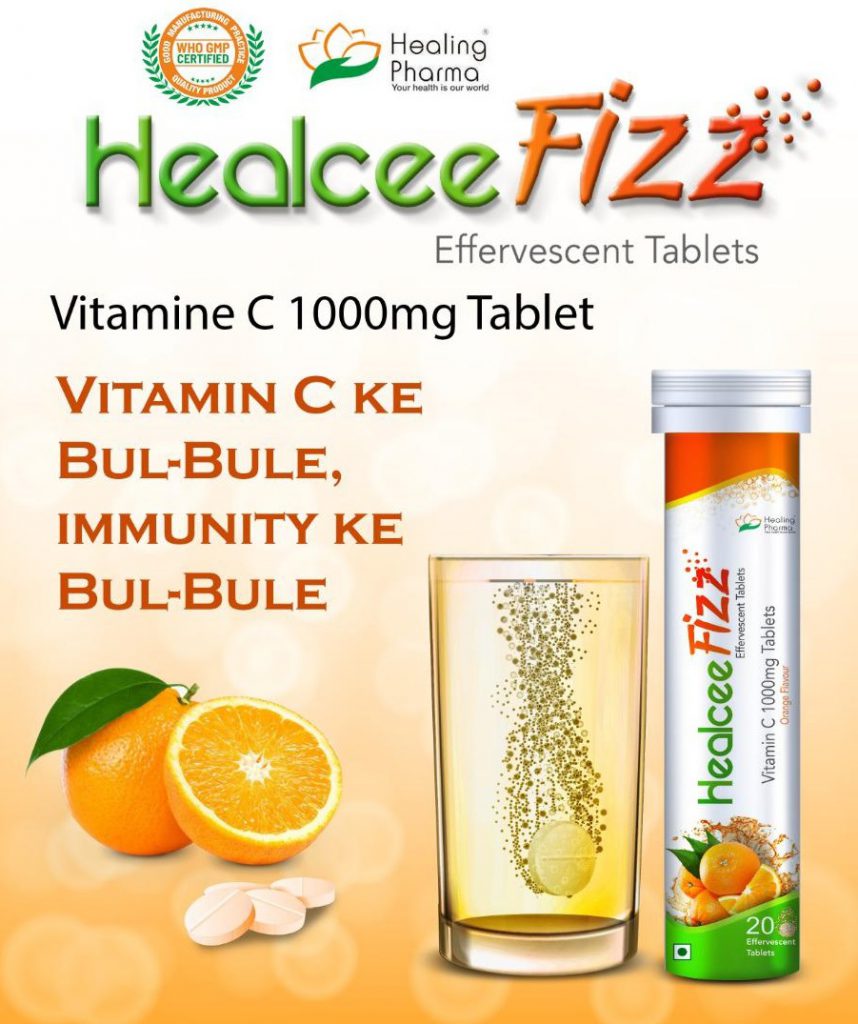 ESSENTIALS
Manufacturer : HEALING PHARMA
Average Delivery Time: 10-15 Working Days
Brand Name : HEALCEE FIZZ
Active Ingredient: VITAMIN C
Vitamin C Effervescent Tablets (1000mg)
Are you searching for medicines that can help boost your immunity to prevent daily infections and sickness in this pandemic time? Vitamin C supplement tablets can help you improve your immunity level and stay away from daily infections and illnesses.
HealCeeFizz Vitamin C Effervescent tablet (1000mg) improves the level of Vitamin C in the body and helps improve immunity system and function properly. HealCeeFizz Vitamin C Effervescent tablet (1000mg) is a natural supplement to boost immunity and, thereby, protect you from various infectious diseases. This tablet contains natural Amla extracts (1000mg) and is available in Orange flavor which help improve your immunity level and protect you from daily infections. One tube of HealCeeFizz Vitamin C Effervescent tablet contains 20 tablets.
This supplement tablet is the best solution for people who wanted to keep their immunity maintained and wanted to keep themselves protected from various flu, sicknesses and daily infections.

Vitamin C & Immunity
Our body's immune system is the body's first and one of the most important defenses against harmful substances and microorganisms such as harmful bacteria, fungus and viruses that are responsible for causing various diseases. The immune system protects our body from various dangerous bacterial and virus infections. Without knowing, sometimes our immune system becomes weak and vulnerable. In this duration, our body is prone to get infections and serious diseases easily. Most of the time, our immune system is fighting with things that are harmful to our health and it needs additional immune booster or reinforcement to improve immunity level. Our body cannot produce vitamin C, therefore, it must come from foods (natural foods, supplements when needed) we eat in our everyday life. Vitamin C, (ascorbic acid), is a water-soluble vitamin that strengthens and maintains the body's immune system and helps it fight every day against harmful substances and infections. It is one of the most used and popular well-known nutrients in the world.   As a potent powerful antioxidant, it can increase the body's natural defense and improve the immunity by protecting cells from unstable compounds (free radicals) in the body, which prevents various harmful and infectious diseases. Vitamin C, The Immunity Booster, helps increase the production of lymphocytes & phagocytes white blood cells that protect the body from various infections.
Vitamin C Effervescent Tablet Features
Improve the level of vitamin C within the body
Power of Amla Extracts
Orange flavor
Helpful in improving the iron absorption in the body
Improve and maintain immunity level
Prevent you from infectious diseases
Contribute Antioxidant support
Revitalizes and rejuvenates skin
Self-water dissolvable
Work Faster
Usage Instructions
Drop 1
HealCeeFizz Vitamin C Effervescent tablet
in approximately 250ml of water, let it dissolve. Once it gets dissolved completely, enjoy the Drink.
Dosage Instructions
It is recommended to take 1-2 tablets/day for adults to maintain your immunity health. You have to give your 5 minutes to get it ready for you to drink. Anyone who wants to keep their immunity health maintained and wants to prevent themselves from daily infections and other harmful diseases, can take
HealCeeFizz Vitamin C Effervescent tablet
. To get better results, it is advised to take this supplement on a daily basis.
Warning:
It is not recommended to take more than the recommended daily dose limit i.e. 1-2 tablets for adults. Taking excessive pills may invite various health problems & issues.
Frequently asked Questions about HealCeeFizz Vitamin C Effervescent Tablet
Are Vitamin C Effervescent Tablets Good for You?
Yes. These tablets are made from the natural Vitamin C rich Amla extracts and are completely good and safe to consume.
What Are the Benefits of Taking Vitamin C?
Our body cannot generate vitamin C by itself and, therefore, it has to get vitamin C from foods that we eat in our daily life. Our body gets vitamin C from natural foods that are rich in vitamin C and supplements which are made from vitamin C rich ingredients.  Vitamin C is one of the most important nutrients for our body as it provides many benefits to the body. The antioxidant in vitamin C helps our immune system fight with unwanted free radicals (free radicals that damage our cells) and maintain the proper body health. Vitamin C increases the production of lymphocytes and phagocytes white blood cells which are responsible for keeping our body protected from daily infections. The antioxidants in vitamin C also improve our skin health, increase immunity level and protect the cells from oxidative damages. Vitamin C also enhances the healing process, helps in repairing tissues, reduce joint pains and help maintain healthy hair as well. Bottom line is, there are so many health benefits if taking vitamin C.
Is It Safe to Consume Vitamin C 1000mg Effervescent Tablets Every Day?
Yes, it is completely safe to consume vitamin C Effervescent tablets daily. It is recommended to take 1-2 tablets/day for adults to keep their immunity level maintained and prevent themselves from infections and other diseases.
What Are the Benefits of Taking Effervescent Vitamin C Tablets over Swallowing Vitamin C Tablets?
Most of the people do not like Swallowing as it feels uneasy to swallow. Fast absorbing Effervescent tablets are water dissolvable and can be taken in the form of drink.
When Is the Best Time to Take Vitamin C Tablets?
There is no specific time to take this medicine, you can take it anytime.  However, intake after post-workout is strongly recommended for all.
Who Can Take Vitamin C Tablets?
Anyone, who is:
Willing to improve their immunity system
Willing to maintain skin, bones, hair and strong blood vessels healthy.
Willing to protect their cells from free radical's damage?
Can I Take This Effervescent Vitamin C Tablets Directly?
It is an Effervescent vitamin pill so it should be consumed in drink form to get all the nutrients absorbed properly.
Can I Take This Tablet with Any Juice?
Yes.  You can mix it with any juice you want.
Does this tablet have any side effects?
No.  You can consume this Vitamin C 1000mg tablet with confidence; it does not have any side effects.   It is very easy to drink and work effectively on the immune system.
Customer Feedbacks
Very Effective! : I have been using this Supplement for the past few months to improve my immunity health. It is very easy to use, and has improved my health and immunity. I can feel it.     : Robert Wilson
Value for Money! : I am taking this Tablet Daily, once a day. Value for money, nice orange flavor, my allergies and Cold are gone now.  Got the product on time, Fast delivery. : Alicia Jones